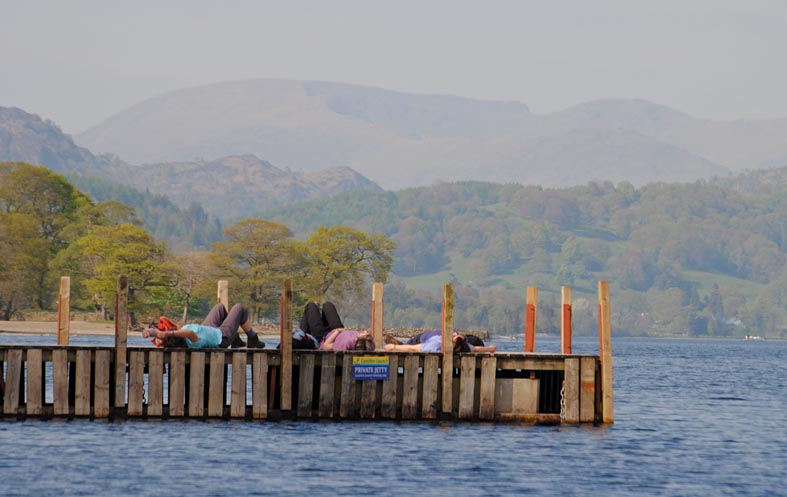 "It hardly rained at all. We walked every day and my feet didn't get sore and I was quite impressed with myself really!"
The Cumbria Way was devised by the Ramblers' Association – ie by real walkers – and it's a real walk. The paths go from slightly too smooth and surfaced to challengingly rugged. Two Lakesides, two rivers, a hill and a high pass; the full length of Langdale, the full length of Borrowdale; a couple of waterfalls; woodland, farmland and moors. There's a satisfactory succession of cafés. And only a single sewage works in the whole seventy miles.
The scenery, of course, is superb. And it's superb in several different ways. On just two stages the route takes to the heights. But one of the walkers was especially impressed by the low country around Little Langdale: something you don't see when you do the normal fellwalk from a car. Another felt the best day of all was the undulating countryside on the first day, before even entering the national park.
Criticisms? Not enough notices. Those piles of slate at Chapel Stile are presumably some sort of industrial archeology rather than just rubbish. There was an interesting sign at Stonethwaite explaining the Herdwick sheep. Did you know that a two year old one was called a twinter? Or is it twintie – I didn't read the notice all that carefully.
Too many notices. The notices that were, were prohibitions. Grown-ups don't need to be told Do Not Touch The Wood Burning Stove. Isn't there something more interesting to say about the mysterious minerals of the northern fells than, there's a £500 fine for taking any of them away?
Waymarking. This isn't a national trail, and the waymarking is patchy: in the high fells there isn't any at all. Some of the footpath arrows and signposts are marked as Cumbria Way: it'd be better if all of them along the C Way were marked as such. The Stake Pass originally had wooden marker poles, hence the name. I personally wouldn't want to see them put back there, and the National Park Authoritiy agrees with me on this. (I wouldn't  want more interepretation signboards either: I like my landscape uninterpreted.) The Cumbria Way needs you to use a map, and also a compass – not in any technical way, but to keep track of the general direction of travel. A basic 'just a bit east of north' gets you across Torver Common, while plain 'north' is needed off High Pike, especially when the weather closes in.
The start? Arriving by train gives you the idea of Ulverston as a seaside town, but coming  from Coniston doesn't. The way should really start at the fake lighthouse, with the wide view over Morecambe Bay.
Honestly, I'd end it off at Dalston. It's a lovely village, complementing Ulverston. There are only occasional trains to Carlisle, but plenty of buses.
Alternatively, there's a path from Buckabank Mill on the east side of the Caldew that's presumably not tarmacked. North of Cummerside, my older map marked the east bank as the actual Cumbria Way. It's untarred, but enclosed between a fence and riverside scrubland, only mildly enjoyable.
There are plenty of B&Bs, some of which will do pick-up and return. Coppermines youth hostel is worth the extra mile and a bit (each way!) Skiddaw House would be special, but even booking four months ahead we failed to get a bednight. If you don't have David and me, several commercial firms will carry your baggage.
For a walk of 70 miles, taken over five days, it's hard to think of a better one. It's a whole lot wilder than Hadrian's Wall: less bleak than the West Highland Way and also more interesting. The feel is quite like Wainwright's Coast to Coast in terms of charm, variety, and frequent surprises; but a bit easier and less than half as long.
Parts of the path are pretty busy – for something with solitude you'd need the Pembrokeshire Coast Path or Offa's Dyke. If you already know Lakeland well, that spoils some of the surprises; which is an argument for doing it straight away, before you know Lakeland any better. It's a fine choice for a first-ever long walk: just so long as someone's prepared to cast an occasional eye at a compass.
There's no official website (it's not an official trail). But the commercial Sherpa Van website is a good first click into the planning process.